Dopo averci fatto sognare con la linea Future Forward dai colori pazzeschi, Mac Cosmetics ci stupisce con la collezione Eyes On Mac.
PALETTE EYES ON MAC
Un vero e proprio ampliamento dell'amatissima gamma di palette occhi da 9 ombretti e da 15 cialde: la linea Eyes On Mac 2016 è composta infatti dalle già conosciute palette Burgundy Times Nine,  Navy Times Nine, Purple Times Nine, Amber Times Nine, X15 Warm Neautral e X15 Cool Neautral, con tre new entry.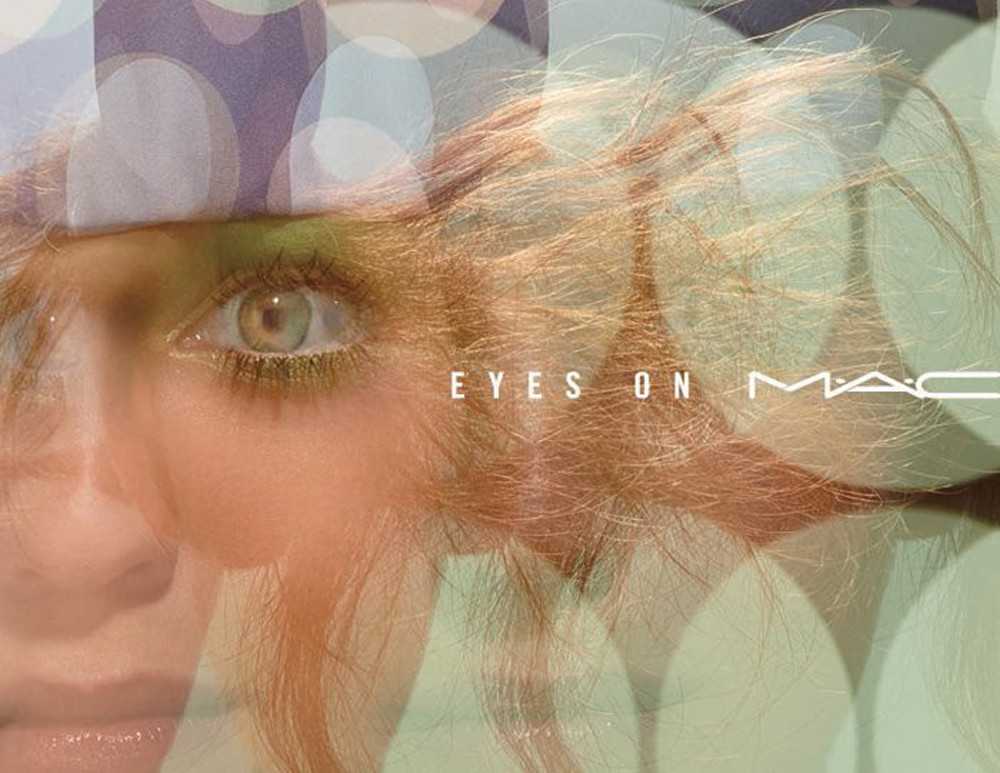 Novità assolute della gamma di palette Mac Cosmetics sono la X15 Mellow Moderns palette da 15 ombretti naturali dalle sfumature moderne, la Dusky Rose Times Nine comprendente 9 ombretti dal sottotono rosato, e la Pastel Times Nine caratterizzata da nove ombretti nei toni pastello. Scopriamole insieme nel dettaglio!
X15 WARM NEUTRAL PALETTE (prezzo 147,00 euro)
Già presente in linea permanente, la palette Mac X15 Warm Neutral ha una prevalenza di colori caldi naturali che variano dai marroni dorati, ai rosa caldi, passando per sfumature bronzo e oro:
Hey, corallo metallizzato;
Warm Breeze, corallo pastello;
Gingersnap, rosa intenso;
Dark Brew, cioccolato con perlescenze rosa;
Dance in the Dark, marrone intenso;
Brule, crema;
Vanilla Extract, beige con sottotono giallo;
Honey Lust, bronzo pescato;
Amber Lights, marrone pescato;
Saddle, marrone arancio-dorato;
Lemon Tart, oro metallico;
Butterfudge, marrone intendo con perlescenze oro;
Creative Copper, oro;
Unwind, verde oliva;
Divine Decadence, bronzo tenue.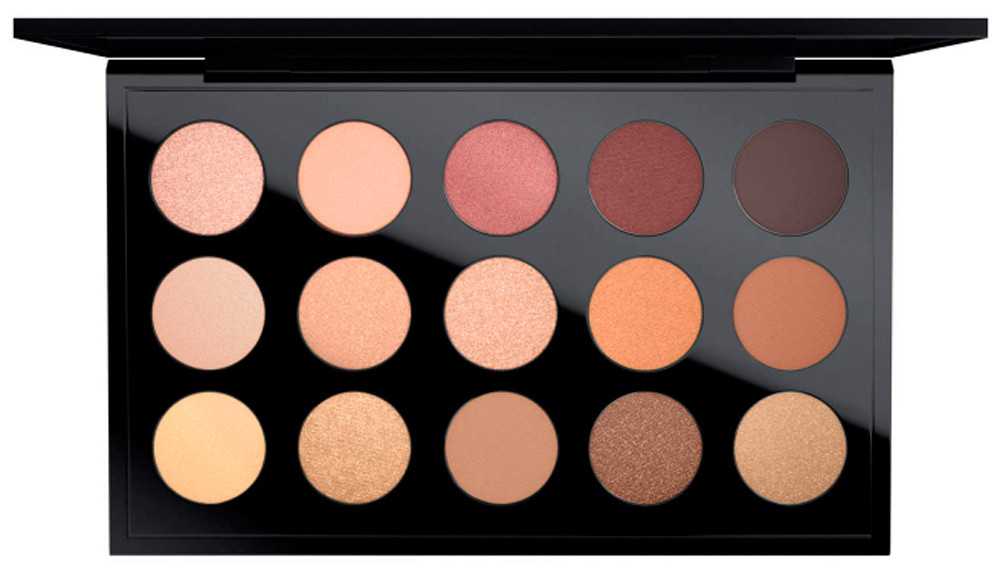 X15 COOL NEUTRAL PALETTE (prezzo 147,00 euro)
Completamente opposta, la seconda palette proposta da Mac è invece più fredda e neutra con una moltitudine di grigi, taupe e ombretti dal sottotono rosato:
Flounce, bianco rosato;
Sweet Allure, rosa chiaro illuminante;
Sun Tweaked, corallo tenue;
Blackberry, borgogna spento;
After Dusk, rosa spento con perlescenze bianche;
Pick Me Up, avorio;
Crushed Clove, verde oliva dorato;
Cozy Grey, grigio freddo;
Deception, marrone dorato;
Brun, nero marrone;
Silver Fog, bianco con perlescenze argento;
French Clay, bianco grigio;
Cumulus, carbone;
Pearled Earth, blu grigiastro;
Black Tied, nero con glitter argento.
X15 MELLOW MODERNS PALETTE (prezzo 147,00 euro)
New entry nel range di palette occhi Mac, la X15 Mellow Modern contiene al suo interno 15 sfumature moderne e di tendenza, molto usate dai make up guru americani per i loro trucchi mozzafiato: 
Beaded, beige dorato;
Goldmine, oro giallo shimmer;
Chains Of Love, marrone bronzo;
Cork, marrone dorato;
Persuade, marrone freddo;
Retrospeck, avorio shimmer;
Greensmoke, verde oliva con riflessi argento;
Felt, verde militare;
Print, grigio scuro;
Carbon, nero intenso opaco;
Orb, beige pescato;
Luscious, bronzo chiaro;
Soft Brown, color pelle;
Trax, rosa malva scuro;
Plummed, viola shimmer.
PURPLE TIMES NINE (prezzo 42,00 euro)
Palette Eyes On Mac super compatta contenente nove ombretti in cialda declinati nelle colorazioni del viola e lilla:
Sweet Lust, rosa pescato chiaro;
Poignant, lavanda;
Mancatcher, lilla freddo;
After Dusk, marsala;
Beauty Marked, bordeaux con riflessi rossi;
Satellite Dreams, viola freddo intenso;
Shadowy Lady, prugna scuro;
Lightly Sugared, lilla shimmer;
Bon Nuit, prugna.
NAVY TIMES NINE (prezzo 42,00 euro)
Palette eye shadow x9 Mac con nuance dal sottotono freddo, sui toni del grigio e del taupe:
Silver Fog, argento;
Blonde Mink, khaki shimmer;
Cloudscape, taupe khaki;
JG Gray, carta da zucchero;
Club, marrone freddo con riflessi verdi;
Mulled Over, grigio blu;
Cast Iron, carbone;
Copper Plate, taupe;
Black Tied, nero glitter.
AMBER TIMES NINE (prezzo 42,00 euro)
Perfetta per look nude con tonalità naturali da giorno, ecco la palette Mac Amber con nove ombretti makeup nelle sfumature del beige:
Georgia Peach, rosa antico pescato;
Cozy Grey, taupe beige; –
Creative Copper, rame dorato;
Cork, marrone dorato;
Ricepaper, beige pescato;
Kitties, bronzo chiaro;
Aromatic, marrone freddo;
Don't Tell, verde oliva con glitter oro;
Pepper Please, bronzo ramato.
BURGUNDY TIMES NINE (prezzo 42,00 euro)
Nove ombretti nelle tonalità calde del borgogna e del rosa antico, ideali per intensificare gli occhi verdi:
Noir, marrone scuro con riflessi oro;
Honey Lust, miele dorato;
Quarry, beige marroncino;
Antiqued, bronzo;
Star Violet, viola caldo;
Haux, marroncino rosato;
Embark, marrone ramato;
Sketch, borgogna con riflessi rossi;
Poppyseed, nude mauve.
DUSKY ROSE TIMES NINE (prezzo 42,00 euro)
Nuova palette Mac da 9 ombretti nelle moderne sfumature rosate, molto in voga nell'ultimo anno:
MACnificent Me!, avorio rosato;
Quiet Time, bronzo freddo shimmer;
Dance In The Dark, marrone scuro;
Fabulous DNA, rosa pesca chiaro;
Pleasing To The Eye, rosa carne;
Sable, rosa antico con riflessi oro;
Frankly Frosty, taupe chiaro;
In My Element, argento perlato;
Cool Complement, marrone freddo medio.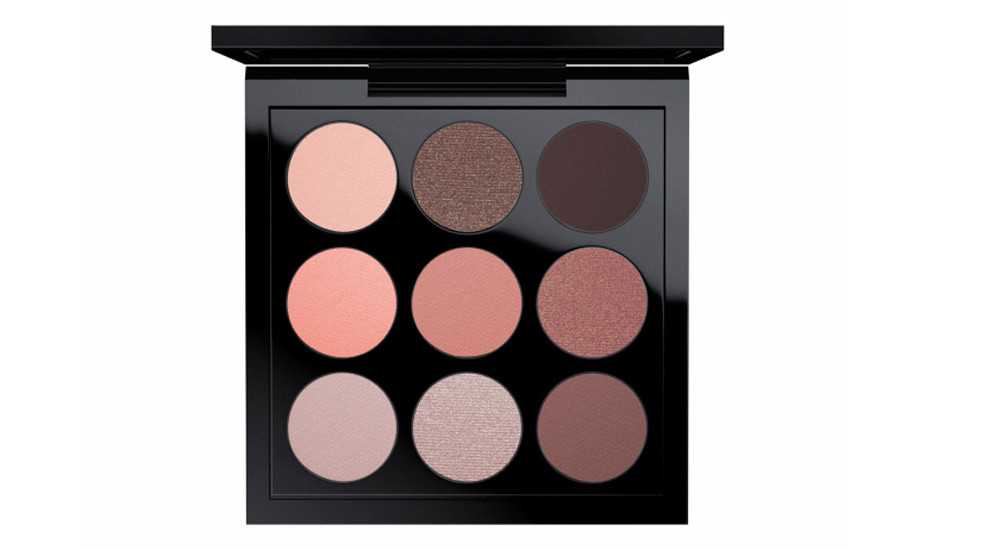 PASTEL TIMES NINE (prezzo 42,00 euro)
Compatta e super colorata, la palette Mac Pastel Times Nine è perfetta per la primavera e i suoi make up look nei toni pastello:
New Nude, beige rosato chiaro;
Fresh Innocence, avorio shimmer;
Spice Bar, sabbia;
Flounce, rosa pastello chiaro;
Restless Rose, rosa malva;
Free Roaming, lavanda;
Spring Moon, azzurro cielo;
Greystroke, argento chiarissimo;
Sweet Green, verde pastello.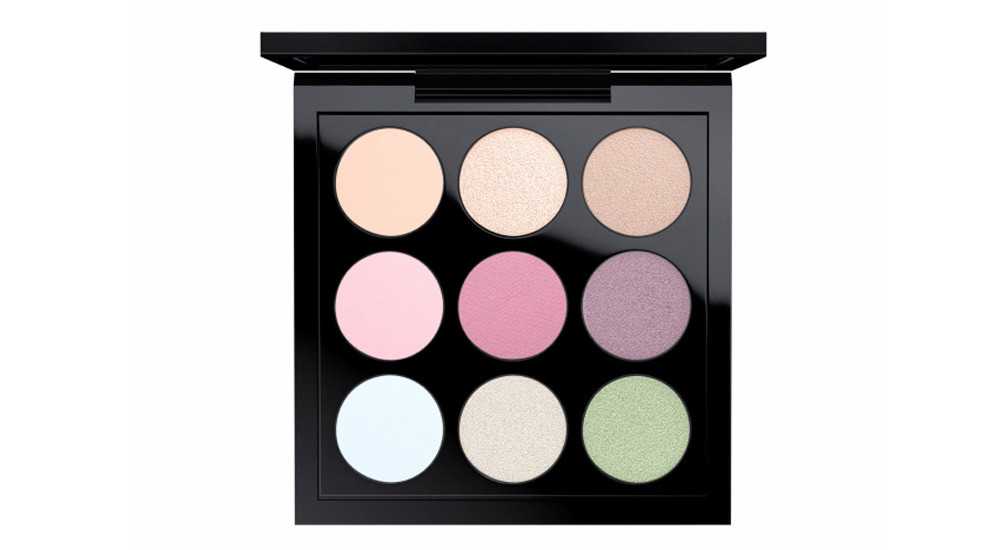 PENNELLI OCCHI MAC
Ad accompagnare le meravigliose palette Eyes On Mac, il brand cosmetico canadese propone due utilissimi pennelli occhi per creare sfumature professionali. Il 231 Small Shader Brush (prezzo 20,20 euro) è perfetto per applicare in modo preciso l'ombretto, mentre il 239 Eye Shader Brush (prezzo 28,50 euro) è l'ideale per sfumare gli ombretti in polvere o in crema grazie alle sue setole morbide e dense.
DOVE ACQUISTARE E QUANDO
Le fantastiche palette Eyes On Mac 2016 sono già in vendita all'estero e saranno disponibili a breve negli store monomarca del brand cosmetico professionale e sul sito ufficiale.
Cosa ne pensate di questa collezione trucco dedicata al make up occhi? Avete mai provato gli ombretti MAC? Fateci sapere le vostre opinioni nei commenti!