Too Faced è una garanzia quando si tratta di stupire con idee regalo originali per Natale.
Tra i cofanetti natalizi Too Faced 2018 spicca il bellissimo kit Dream Queen Make Up Collection composto da palette viso e occhi, mascara, lucidalabbra e spray fissante trucco.

DREAM QUEEN MAKE UP COLLECTION TOO FACED
Cigni bianchi e stelline dorate fluttuano su uno sfondo rosa confetto. All'interno di una graziosa pochette a tema troviamo tutto l'occorrente per realizzare un make up completo: una palette viso e occhi con ombretti, bronzer, blush e illuminante, le taglie da viaggio di mascara e spray fissante e un gloss per non trovarci impreparate ai baci sotto al vischio.
Vediamo nel dettaglio i prodotti del kit Dream Queen!
PALETTE DREAM QUEEN TOO FACED
La palette dal packaging in cartonato, foderato con i disegni della collezione, contiene 24 ombretti dai finish matte e shimmer e 4 polveri compatte viso adatte a qualsiasi tonalità di incarnato.
Le colorazioni presenti all'interno della Dream Queen palette viso e occhi sono:
Twinkle: ombretto champagne shimmer;
Wrap It Up: ombretto rame shimmer;
Santa: ombretto terra di siena matte;
Polar Bear Hug: ombretto sabbia satinato;
Unwrapped: ombretto marrone nocciola matte;
Christmas Cookie: ombretto marrone cioccolato shimmer;
Let's Kringle: ombretto rosso mattone matte;
All the Jingle Ladies: ombretto ottone shimmer;
Here for the 'Hos: ombretto marrone scuro shimmer;
Snowball Effect: ombretto rosa cipria caldo matte;
Pink Flurries: ombretto rosa lampone shimmer;
Cozy Up: ombretto rosso ciliegia shimmer;
Son of a Nut-Cracker: ombretto marrone cioccolato matte;
Kiss Miss: ombretto rosa confetto shimmer;
S'Elfies: ombretto rosa antico shimmer;
Keep Your Hands to Your Elf: ombretto oro rosa shimmer;
Holly Grail: ombretto marrone scuro con perlescenze verde ottanio shimmer;
Santa's Bakeshop: ombretto rosa antico matte;
Let's Roll: ombretto rosso sangue matte;
Christmas Cheer: ombretto marrone ramato shimmer;
Christmas FOMO: ombretto viola acceso shimmer;
Special Delivery: ombretto nero matte;
Silver Bells: ombretto bianco panna shimmer;
Holly Daze: ombretto verde ottanio shimmer;
Chestnuts Rosting: bronzer marrone nocciola caldo;
Winterberry: blush rosa antico con perlescenze dorate;
Sweet on Santa: blush rosa pesca perlato;
Snow Extra: illuminante champagne perlato.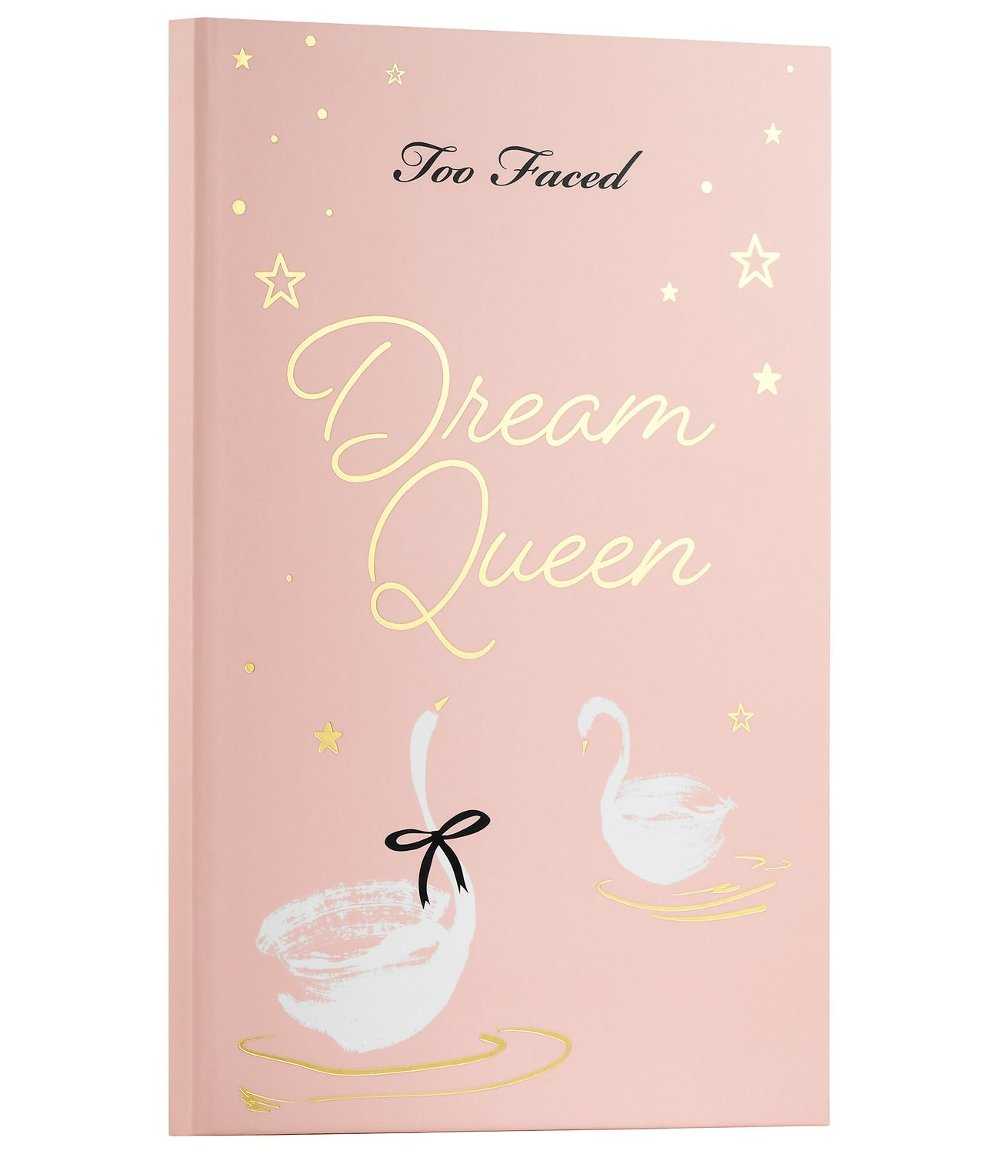 SWATCHES
Ecco qui sotto la foto degli swatches di tutti i colori degli ombretti contenuti nella palette Dream Queen di Too Faced.
TOO FACED HANGOVER SPRAY
Lo spray Hangover di Too Faced è stata una vera e propria rivoluzione nel mondo del make up poiché in un unico prodotto abbiamo a disposizione ben 3  differenti soluzioni di utilizzo:
come primer: idrata e leviga la pelle;
come fissante: prolunga la durata del make up;
come rinfrescante: ci fa sentire come appena uscite di casa.
Il suo profumo al cocco lo rende ancora più invitante e in questo kit lo troviamo in una comoda mini size, per non rinunciare a un perfetto alleato nemmeno durante la trasferta di Capodanno!
TOO FACED BETTER THAN SEX MASCARA
Per ciglia lunghe, folte e incurvate al punto giusto, Too Faced inserisce nel kit il mascara Better Than Sex in una comodissima mini taglia deluxe.
LUCIDALABBRA DREAMY LIPS ULTRA PLUSH TOO FACED
Completa il cofanetto di Natale Too Faced il lucidalabbra Dreamy Lips Ultra Plush, perfetto per labbra più piene, polpose e scintillanti. È proposto in una versione customizzata natalizia nella nuance Pink Swan, un rosa acceso con perlescenze oro rosa!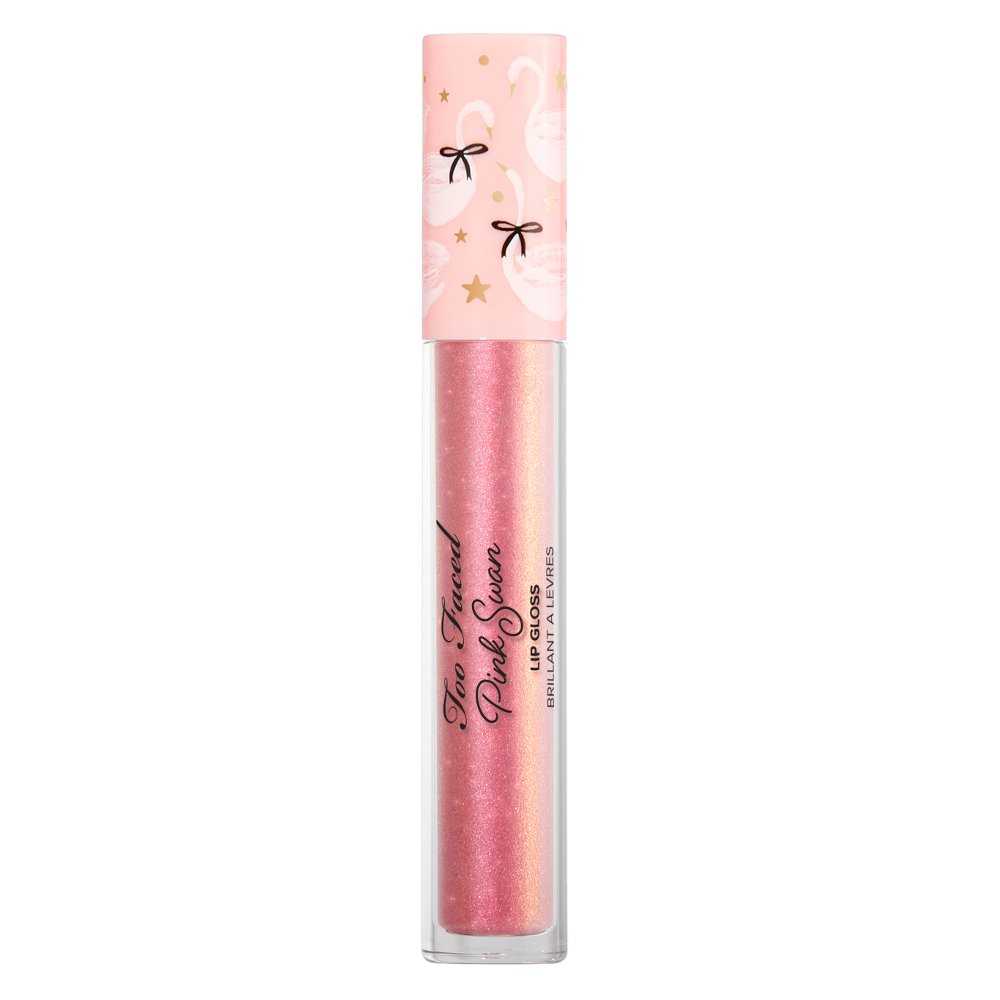 DOVE ACQUISTARE IL KIT CON PALETTE DREAM QUEEN DI TOO FACED E PREZZO
Il nuovo cofanetto Dream Queen Make up collection di Too Faced per il Natale 2018 è in vendita in esclusiva da Sephora in questa pagina del sito e negli store della catena della profumeria francese.
Il prezzo del kit è davvero vantaggioso: viene proposto a soli 58,90 euro.
Cosa ne pensate di questo set Natalizio con maxi palette trucco e mini prodotti make up? Lo comprereste come regalo di Natale per voi o per un'amica? Fateci sapere le vostre opinioni nei commenti!
---
AMATE TOO FACED? NON PERDETEVI QUESTE NOVITÁ: