Le famose box Sephora Favorites 2022 si declinano in quindici cofanetti tutti da scoprire, ricchi di prodotti trucco e skincare dei brand più trendy e famosi, in mini o full size!
COFANETTI SEPHORA FAVORITES 2022
Dal loro arrivo, i cofanetti Sephora Favorites Italia hanno avuto un ascesa irresistibile. Sono esclusivi cofanetti tematici che racchiudono i prodotti make up e skin care più venduti nella catena di profumerie francese a un prezzo speciale! Generalmente contengono da 5 agli 10 cosmetici tra i più richiesti del periodo, in formati che possono variare dalle comodissime taglie da viaggio alle più durature full size. I nuovi cofanetti Sephora Favorites 2022, tutti in edizione limitata, sono disponibili in quindici varianti, dedicate al trucco, alla cura di viso e corpo e ai prodotti indispensabili per l'estate. Scopriamo in dettaglio tutte le box Sephora Favorites!
SELECTION GOOD FOR (PREZZO 50 €)
Nel kit Sephora Favorites Selection Good For troviamo 6 prodotti in mini e full size contenenti almeno il 90% di ingredienti naturali. Dalla skincare al trucco occhi, i prodotti di questo cofanetto proteggono e nutrono la pelle e ci regalano un make up all'insegna della luminosità. Ecco cosa troviamo nel kit:
Hydro Grip Primer Milk Makeup in mini size;
matita occhi intensité + douceur Sephora Collection full size;
illuminante Living Luminizer RMS Beauty full size;
illuminante The Impossible Glow Pai Skincare in mini size;
crema solare viso Clean Screen Mineral SPF 30 Ren Clean Skincare formato standars;
mascara Beautiful Lash Sephora Collection full size.
LIPS BATTLE (PREZZO 49,90 €)
Con il cofanetto Lip Battles Sephora propone una battaglia tra prodotti labbra nella quale sarà impossibile designare un unico vincitore! I 6 prodotti in mini e full size sono pensati per trattare le nostre labbra, a partire da una coccolante skincare fino ad arrivare all'applicazione di rossetto e lipgloss. Ecco cosa troviamo nel cofanetto Sephora Favorites dedicato al make up labbra:
lipgloss Gloss Bomb Fenty Beauty full size, tonalità Fenty Glow;
rossetto mat Pat McGrath Lab full size, tonalità 1995 Warm Light Nude;
mini maschera notte per labbra Sweet Candy Laneige;
mini balsamo multiuso 101 Ointment The Original Lanolips;
rossetto Nars full size, in tonalità Matte Inappropriate Red;
lucidalabbra Sephora Collection Glossed full size, nel colore 130 Independent.
HAIRCARE MUST-HAVES (PREZZO 38 €)
Per tutte le amanti della cura dei capelli c'è il fornitissimo cofanetto Sephora Favorites Haircare Must-Haves. Contiene 8 prodotti in mini size, pensati per trattare i capelli a partire da uno scrub super di tendenza fino ad arrivare agli impacchi nutrienti. Ecco cosa troviamo nel kit capelli Sephora Favorites:
scrub purificante al sale marino Christophe Robin;
spray Hairdresser's Invisible Oil Heat Bumble and Bumble;
spray ondulante Ouai Haircare;
trattamento Moroccanoil;
trattamento n°3 Hair Perfector Olaplex;
shampoo ricostituente Virtue;
dopo-shampoo ricostituente Virtue;
maschera rivitalizzante Don't Despair, Repair! Briogeo.
TOP RATED MASCARAS (COSTO 32 €)
Cerchiamo in giro qualcuno che rinuncerebbe al mascara e sicuramente non riusciremo a trovarlo! Nel kit Top Rated Mascaras Sephora Favorites inserisce allora 4 mini size dei mascara più iconici. Per darci la possibilità di provarli tutti. Eccoli di seguito:
mascara Benefit They're Real Magnet;
mascara Legit Lashes 2 in 1 extreme black Huda Beauty;
Maneater black mascara Tarte;
mascara Too Faced Better Than Sex.
BOX MINI ESSENTIALS (PREZZO 20 €)
I Mini Essentials Sephora Favorites hanno un nome che è tutto un programma: 5 prodotti irrinunciabili ed essenziali perfetti da tenere in borsa. Dagli elastici per capelli al gel sanificante per le mani. Eccoli nel dettaglio:
trio di elastici per capelli Invisibobble;
balsamo labbra multiuso Lanolips in full size;
gel sanificante mani Flower Power Merci Handy in full size;
struccante bifasico Sephora Collection in mini size;
patch naso anti punti neri Sephora Collection.
SUMMER ESSENTIALS (PREZZO 39,90 €)
Tutto il necessario per la bella stagione! Il cofanetto Summer Essentials Sephora Favorites propone un'ampia scelta di prodotti beauty best seller per una pelle luminosa e un make up look radioso. Ecco le referenze al suo interno:
mini cipria Hydra-Mist Set and Refresh Powder Becca;
crema The True Cream Aqua Bomb di Belif in mini size;
terra abbronzante Benefit Hoola in formato mini;
mini Coconut Coffee Scrub di Frankbody;
lucidalabbra Marc Jacobs Beauty Enamored Hi-Shine Gloss Lip Lacquer nel colore Sugar Sugar in mini taglia;
mousse da bagno Rituals Cosmetics nella mini variante The Ritual of Karma;
mascara Size Up Waterproof Sephora Collection in full size;
mini crema corpo Sol de Janeiro Brazilian Bum Bum Cream;
spazzola compatta Tangle Teezer nella versione Pina Collada, Palms and Pineapple Print;
mini smalto OPI nel colore The Thrill of Brazil.
LUXURY SELECTION (PREZZO 40 €)
Un coffret beauty dall'eleganza impareggiabile. Si tratta del kit Luxury Selection, un'idea regalo per le amanti della cura del viso molto esigenti. Questo cofanetto Sephora Favorites dal packaging pink contiene un mix di sei prodotti skincare, make up e accessori di altrettanti amatissimi brand di fascia alta presenti nella catena di profumerie francese. Al suo interno troviamo:
mini siero riparatore Estee Lauder Advanced Night Repair;
kit di maschere contorno occhi illuminanti Rose Gold di 111Skin;
crema detergente viso Eve Lom in formato deluxe;
mini cipria Ambient Light Hourglass nella tonalità Dim Light;
elastico per capelli rosa di pura seta del brand Slip;
crema viso Magic Cream Charlotte Tilbury in mini size.
SET EYES AND BROW (PREZZO 34,90 €)
È invece interamente dedicata al trucco occhi e sopracciglia il kit Eyes & Brow Look Sephora Favorites. Al suo interno una selezione di mascara, eyeliner, ombretti e gel sopracciglia con cui sottolineare lo sguardo e creare un make up look felino. Ecco il suo contenuto:
mini gel per sopracciglia Gimme Brow+ Benefit Cosmetics nella tonalità 03;
Full Frontal Volume, Lift and Curl Mascara Fenty Beauty in travel size;
eyeliner Life Liner Huda Beauty full size;
ombretto Mono Eyeshadow 59M Moonstone Natasha Denona;
mascara Damn Girl! Too Faced in versione travel.
ICONS' SELECTION (PREZZO 39,90 €)
Un cofanetto beauty letteralmente iconico. Il coffret Sephora Favorites Icons' Selection è il regalo perfetto per una make up addicted sfegatata! Contiene una selezione di cinque prodotti trucco dei brand più celebri, sempre sulla cresta dell'onda, di cui tre full size! Al suo interno troviamo:
rossetto liquido Demi Matte Cream Lipstick Huda Beauty nella colorazione SheEO;
matita per sopracciglia Brow Wiz Anastasia Beverly Hills in tonalità Medium Brown;
illuminante viso dorato Killawatt Freestyle Highlighter Trophy Wife di Fenty Beauty;
mini rossetto in stick Matte Revolution Charlotte Tilbury nel colore Pillow Talk;
mini mascara Lights Camera Lashes Tarte.

SET NUDE LIPS (COSTO 34,90 €)
Elegantissime labbra nude, da sfoggiare in ogni occasione. Il cofanetto Nude Lips Selection comprende cinque rossetti liquidi e matite labbra declinati in altrettante sfumature di nude, dal più chiaro al più intenso, dal sottotono caldo al sottotono rosato. Ecco le referenze make up che si celano in questo kit Sephora:
mini rossetto liquido Anastasia Beverly Hills Liquid lipstick nella colorazione Pure Hollywood;
liquid lipstick Huda Beauty Demi Matte nella tonalità Feminist full size;
rossetto liquido Everlasting Liquid Lipstick KVD Vegan Beauty Lolita in mini taglia;
matita labbra Sephora Collection Lip Stain Liner nel colore 23 Copper Blush;
rossetto liquido Sephora Collection Cream Lip Stain 23 Copper Blush full size.
NO BLEMISH EXPERT (PREZZO 38 €)
Il cofanetto No Blemish Expert della linea Sephora Favorites 2022 propone una routine completa anti imperfezioni che promette, con l'utilizzo costante dei vari prodotti, di dire addio ai punti neri e ai brufoli. Un'idea regalo perfetta per l'amica con la pelle problematica! Sei i prodotti contenuti in questo kit:
idratante viso in gel Dramatically Different Hydrating Clearing Jelly Anti-Imperfezioni di Clinique in travel size;
mini detergente viso Acne Facial Cleanser Mario Badescu;
kit di patch anti brufoli del marchio Peace Out;
siero The Ordinary Niacinamide 10% + Zinc 1% in taglia vendita;
mini scrub viso Yo Glow Enzyme di Wishful;
tonico Pixi nella versione Clarity Tonic in mini size.
SUPER INGREDIENTS (PREZZO 33,90 €)
Qualsiasi momento è buono per prendersi cura della pelle e renderla più bella e fresca. Il cofanetto Super Ingredients Sephora Favorites contiene ben otto prodotti must have per purificare e idratare la pelle arricchiti da ingredienti preziosi e ricchissimi di attivi. Eccoli nel dettaglio:
crema viso Yuza Sorbet Cream Erborian da 20 ml;
maschera notte rilassante Re-Charge My Clarins da 15 ml;
mini crema contorno occhi Ginzing Refreshing Origins;
detergente viso Origins Checks And Balances Frothy da 15 ml;
olio struccante Light Work Rosehip Pai Skincare da 28 ml;
maschera viso alla canapa Sephora Collection Hemp Mousse Mask;
crema viso Waso Giga-Hydrating Rich Cream Shiseido da 30 ml.
GOOD FOR SELECTION (PREZZO 34,90 €)
Un altro cofanetto Sephora Favorites dedicato alla pelle e agli ingredienti di origine naturale è il kit Good For Selection. La selezione di prodotti al suo interno prevede infatti ben nove trattamenti composti per almeno il 90% da ingredienti naturali che propongono una skincare routine completa. Vediamoli da vicino!
siero viso Hosanna H2O Intensive Skin-Plumping Antipodes in versione mini;
mini panno struccante detergente di MakeUpEraser color verde menta;
gel idratante viso Merci Handy in mini size;
mini crema viso da giorno On The Wild Side;
latte detergente Evercalm Gentle Cleansing Milk REN Clean Skincare in formato mini;
mini deodorante naturale del brand Respire;
crema contorno occhi Sephora Collection Brightening Eye Cream in full size;
saponetta detergente all-over all'anguria Sephora Collection;
trattamento 101 Ointment Multi-Balm Lanolips, versione Minty in formato vendita.
BEACH ON THE GO (PREZZO 37,90 €)
Nasce sotto il segno dell'idratazione e della protezione il coffret Beach On The Go. Un cofanetto beauty must have per l'estate, ricco di prodotti viso, corpo e accessori pensati per essere utilizzati sotto il sole, in spiaggia, in piscina ma anche in città durante le calde giornate estive. Per l'occasione, il packaging di questo kit viso e corpo è caratterizzato da una bustina in plastica trasparente, ideale per i viaggi estivi. Ecco il suo contenuto:
mini balsamo corpo super idratante di Clarins;
maschera per capelli nutriente Like A Virgin Coco & Eve in formato viaggio;
scrunchie Invisibobble in collaborazione con Swim With Mi Santorini;
spray rinfrescante viso Aloe, Sage & Orange Blossom di Mario Badescu in mini size;
mini stick rinfrescante Milk Makeup;
crema solare viso SPF 50 e il spray solare SPF 30 Mimitika;
gommage corpo Sephora Collection alla papaya;
mini solare viso minerale SPF 30 di REN Clean Skincare.
CHILL AT HOME (PREZZO 39,99 €)
Ultimo cofanetto Sephora Favorites 2022, la box Chill At Home è studiata per idratare la pelle e concedere un momento di relax a viso e capelli. Al suo interno ben 9 prodotti skincare tutti targati Sephora Collection al prezzo di soli 39,99 € anziché 57 €! Ecco cosa contiene:
mini maschera Overnight Glow;
siero viso Ultra Glow in full size;
crema contorno occhi illuminante in full size;
mini crema viso Nourishing Moisturizer;
maschera in tessuto Freezing Mask;
Kiwi Lip Scrub;
maschera per capelli Shea Hair Sleeping Mask;
scrub corpo alla papaya;
crema mani Honey Hand Polish.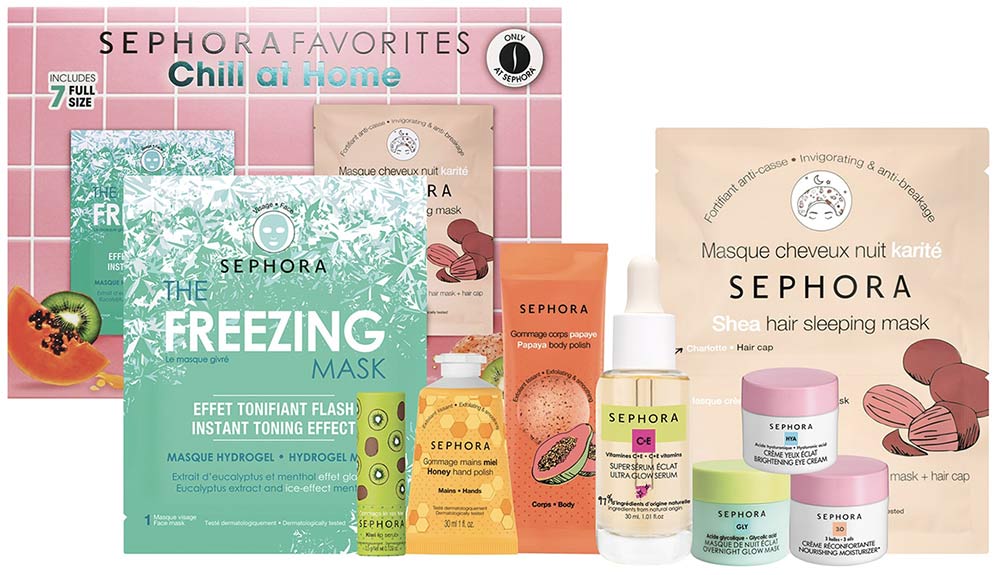 DOVE ACQUISTARE I COFANETTI SEPHORA FAVORITES
Le nuove spettacolari box Sephora Favorites sono disponibili in esclusiva nei beauty store Sephora e sul sito web in questa pagina. Solitamente le più belle vanno esaurite in poco tempo.
Vi piacciono i cofanetti trucco e skincare Sephora? Qual è il vostro preferito? Fateci sapere la vostra opinione nei commenti!
---
Prodotti e linee trucco firmate Sephora Collection e novità da provare!